5-Evenings of Consecration Retreat
The Crusaders organised 5-Evenings of Consecration Retreat online (over Zoom App) from 26th January to 30th January 2022.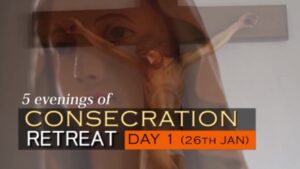 The retreat was largely attended by lay persons, priests and nuns from Goa, India and abroad. Each evening began with a decade of the rosary followed by a brief period of praise and worship. After that, there was a brief mediation based on the theme of the day. The participants were then led into an online adoration. Towards the end of the adoration, a prayer of consecration was said invoking the protection of God over the home, marriage, family and community. The adoration was then followed by preaching of the Word of God.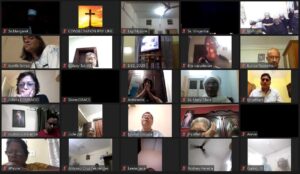 On the final day, there was a session of infilling of the Holy Spirit after which the retreat ended on a very joyful note.
Adoration on 1st Day of the month
On 1st February 2022, Crusaders from all over Goa, India and abroad gathered together online (over Zoom App) for an online adoration.

Retreat for students of a school in Margao
On 1st February 2022, the School Retreat Team of the Crusaders organised an online retreat for students of 6th Std. of a reputed school in Margao.
Joint Meeting of Leadership of the ACJM
The leadership of the ACJM met together online (over Zoom App) on 2nd February 2022 and reviewed the ongoing progress of the Movement locally, nationally and abroad. After planning various activities for the near future, the leadership then watched a movie on Garabandal, which tells of what exactly happened there and how it had fore-told then the present times of Great Chastisement now come over the world.