CONCLAVE FOR THE OFFICE STAFF OF THE ACJM
The office staff of the ACJM working in the ACJM offices located in Panjim, Margao and Vasco had their conclave in South Goa from 14th to 16th June 2023. With the ACJM having grown in terms of numbers, ministries and activities, there has been a proportionate increase in the workload at its offices . This requires a greater level of commitment, teamwork and the need to be conversant with various skills depending upon the job at hand. Needless to say, all this is possible only if one is rooted in prayer, constant meditation on the Scriptures, and Sacramental life. The conclaves that are held regularly every 3 months serve as a spiritual lifeline to the staff members.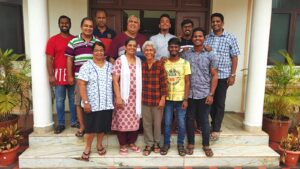 CONCLAVE FOR THE MUSIC MINISTRY OF THE ACJM
A conclave was held for the leading members of the music ministry of the ACJM on 17th and 18th June 2023 in South Goa. These leading members are responsible for the proper function of the choir ministry in their respective zones, Vasco, Panjim and Margao.